Dog Walkers in West London
Dogs need a balanced lifestyle which includes interaction with their owner. The right kind of attention, exercise, fresh air and a healthy diet will give your dog a long life and a good attitude. Dogs suffer when their owners must leave them alone all day. They can become restless, lonely and start to exhibit behavioural issues. After a long day at work, who needs to be greeted by a misbehaving, unhappy pet?
Helen's Dog Walking Service can save the rest of your day and your dogs.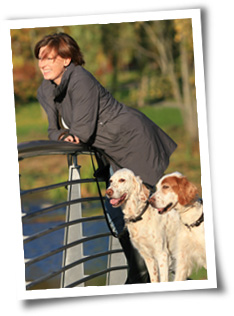 About Helen
I am a experienced full-time dog walker and pet sitter of 10 years+ in the Chiswick, Ealing, Hammersmith and all other local areas.
I'm DBS checked.
I'm Fully ensured with Pet Business Insurance.
I have a pet first aid certificate.
References can be provided.
I welcome all sizes and Breeds of dogs. And of course young puppies.
What Does Helen's Dog Walking Service Include?
Transportation in a pet-friendly vehicle
Opportunity for both on- and off-lead walking
On-hand supply of fresh, thirst-quenching water
Organic chicken and fat-free treats
Photos and weekly up-dates on walks by whatsApp, text or emails